Breathless Experiences
Join us for a tasting flight or a glass of our small production sparkling wines at our tasting room and garden in downtown Healdsburg. Celebrate everyday while you learn about the history and art of making sparkling wine in a fun, casual atmosphere.
Classic Tasting - $16 Per Person
Enjoy a daily assortment of our sparkling wines as a flight. Compare the different styles while you learn about the sparkling winemaking process. After your tasting, feel free to enjoy a glass or a bottle on the patio. Club Members and up to 4-6 guests receive complimentary tastings.
Purchase 4 or more bottles or join our Sparkling Society Wine Club and we'll waive the tasting fee!
Tasting & Tour - $30 Per Person
See firsthand how sparkling wine is produced in our state-of-the-art production facility. You'll be led through the facility and educted on the process step by step, culminating in a tasting of three award winning Breathless sparkling wines. Available Monday through Friday by reservation. Weekend tours subject to availability.
(Tours are complimentary for 12 bottle Club members and 1 guest. Other clubs receive their discount for tours)
Sabrage - $69 Per Person
With the Breathless sabrage experience, you'll receive one-on-one instruction with a Breathless staff member teaching you how to properly open a bottle of wine using a saber. You'll also receive the newly decapitated bottle of Breathless Brut Sparkling Wine to enjoy on the property.
Group Tasting - $25 Per Person
(reservations required for groups of 6 or more)
Breathless Wines welcomes groups of 6 or more with advance reservation.
Click here for Group Reservation Information

Industry Tasting
(with valid business card/wine industry ID)
We offer complimentary tastings and 30% wine purchase discount for wine industry professionals and one guest
(Mon, Tues, Thurs, Fri, and Wednesdays by appointment) Saturdays and Sundays we offer 30% off our regular tasting fees and 30% off wine purchases.
Industry parties of 6 or more will receive 30% off the tasting fee and 30% off wine purchases - daily.
Reserve your tasting by emailing: reservations@breathlesswines.com or fill out the appointment form.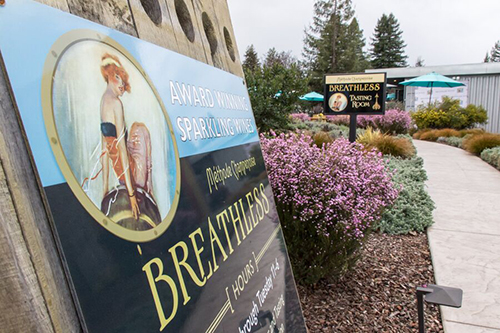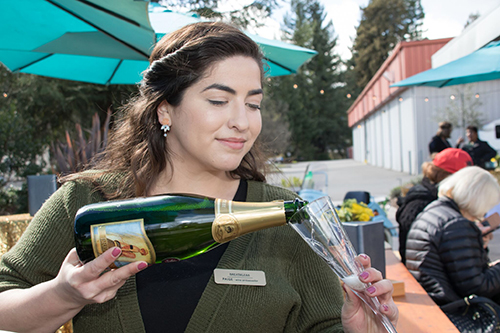 You know you want to
Sign Up For Our Newsletter
Keep up to date on the latest wine releases, events, and promotions and get 10% off your next order.